Parkers Review CTC Performances Tuned ZC33S
Posted: 5th November 2018
Parker's Roadtest Our Demo Car at Newmans Suzuki Southampton! 
We recently stumbled across a video shared by the good people at Parkers showing the Swift Sport only just losing a drag race to the new Fiesta ST. With the list price of the tow being so close we thought why not get in touch to show our work to give people another option over the ST for similar money with a litte CTC magic. While a drag race would have been nice we settled for a review of our stage 1 tuning.. you can read the review below:
Update 5: Sped up Swift
James heads to Southampton to hunt down a tuned Swift Sport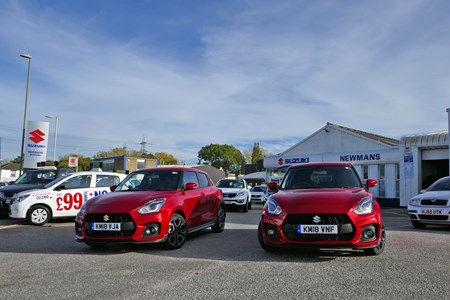 Don't get me wrong, the Swift Sport possesses a lively, punchy engine capable of surprising far pricier sports cars from the lights. And yet, I've never been able to shake a lingering feel that there was more to come out of the 1.4-litre Boosterjet engine.
And, as luck would have it, a chap called Chris Cooke got in touch after seeing our Suzuki Swift Sport vs Ford Fiesta ST vs Volkswagen Up GTI drag race video, claiming he had a faster, more powerful version that we could use to topple the victorious Fiesta ST.
Power up to 165hp
Chris is the director of a Somerset-based performance parts company CTC Performance, whom specialise in go-faster bits for the Suzuki Swift Sport. They offer a number of services – with more coming for the recently released fourth-generation model – including engine remaps, louder exhaust systems (pictured) and uprated suspension (blue car).
What I'm most interested in, however – from a Parkers point of view – is the remapping service. Why? Well, it's simple to do (just send the car's ECU off to Chris and he does the rest) and the increase in power is immediate.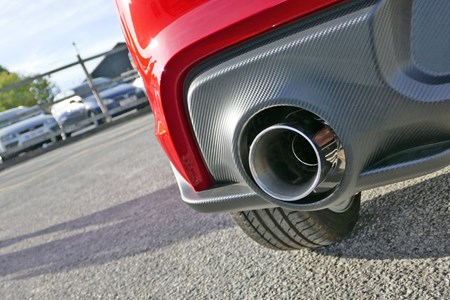 It works by reconfiguring the car's electronic brain to tell the engine to produce more power and torque ­– something the manufacturer hasn't (or isn't able to do) for a number of reasons.
Suzuki claims that the Swift Sport makes 140hp from the factory, yet tests on numerous customer cars have shown this figure to be more like 152hp – a noticeable jump. Give your Swift Sport the CTC treatment, however, and power jumps to 165hp, representing a 9% increase on the standard car.
How does it drive?
Newmans Suzuki in Southampton – who own the mapped Swift Sport – kindly allowed me to hop behind the wheel for a quick evaluation of the difference made by CTC's fettling.
Predictably, the map wasn't able to turn the Swift Sport into a Focus RS. However, the increase in performance and driveability was noticeable. The engine felt more eager in the mid-range, with a better spread of torque pulling the car up towards higher speeds, all the while still feeling smooth and linear in its delivery.
It's not the sort of thing you'll really appreciate over a short test drive, more an aspect you'll be pleased to have invested in during many motorway commutes where the engine is that bit more flexible.
How much does it cost?
The remapping process will set you back from £399.99, but – as it stands – you will have to negotiate with your Suzuki dealer on what this will mean for the manufacturer warranty. That said, Chris is trying to get the remap offered as a dealer-fit option, so watch this space.
More details on all Parkers thoughts on the Swift can be found below:
https://www.parkers.co.uk/suzuki/swift/hatchback-2017/long-term-reviews/sport-14-boosterjet-5d/